Supply Chain and Logistics
·
Huel HQ
·
Hybrid Remote
Supply Chain Planner
You'll be responsible for stock availability across our distribution centres and storage locations, ensuring we have Huel available to send to our customers around the globe🌎
We usually respond within a week
Hey! We're Huel and we're pleased to meet you! 👋 We're going to start by talking about our exciting new Supply Chain Planner position, but if you'd like the quick low down on us first including our growth story then just head to the bottom of this page!
The role
Due to the increased global demand from our customers (Hueligans🖤), we are looking for a Supply Chain Planner to control the planning and management of stock availability across our distribution centres and storage locations globally🙌!

You will take responsibility for getting the right products in the right place at the right time (yes that's a mouthful!), keeping everything in stock so our customers are able to order it without delay, direct to their door🏠. 

Not yet convinced it's the role for you? Well then you can click 👉HERE to read a more detailed job description and find out some fun facts about the team!

What we're looking for in you
This role will suit recent graduate with at least 1+ years experience within a supply chain role. You'll be highly organised and have great attention to detail, with an ability to spot issues and proactively investigate and resolve them, working collaboratively with internal and external teams⚡. As well as managing stock movements, you'll need to track them so experience with excel is key📊. 

What will stand out to us, is a real hard-worker, someone who really cares about Huel, our stock and our customers. You'll have the opportunity to make a real dent in our growth and build a name for yourself at Huel🙋, while of course having fun too🥳! 
What do we offer in return?
And in return for all of your hard work and team playing, you can expect benefits that are tastier than our Salted Caramel Black Edition (and trust us, that's saying something!)

🥤 Free Huel to keep you going
🌴 30 days annual leave PLUS bank holidays
🕖 Flexible working - including up to 2 days per week at home
🐾 Dog friendly. If you've seen Daddy Day Care the movie, that's basically HQ but for doggo's!
🏋️ Free on-site gym with free classes, and we will give you your own nutrition plan
🧠 Free 1 on 1 therapy provided by Self-Space.
🏥 Private Medical and Health insurance for you and your loved ones, including free life insurance cover up to 4x your salary
⚡ Electric Car Scheme with free onsite charging
🤰 Enhanced Maternity Pay
👪 Workplace Nursery Scheme
🎓 Huel Academy
🎉 Quarterly events to celebrate success - Have you heard about Huelchella?
So what next?
If this sounds like the right opportunity for you, then we'd love to hear from you! Click on apply to this job to send us your CV and cover letter and Emily from our talent team will be in touch with you.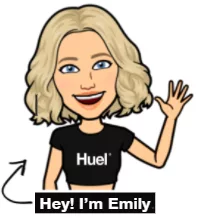 In the meantime if you'd like to clue yourself up on our interview process head over to this page 👉 https://careers.huel.com/pages/becoming-a-hueligan

All about Huel
Well first things first, we're going to bust some myth's that you may have heard! Huel is often referred to as a 'meal replacement' or a 'protein shake' for gym goers and dieters, but that's not *technically* correct. Whilst Huel can be used to help you achieve those things, Huel is so much more than this. We're a food brand. And one that loves the planet too 🌎🖤. We offer nutritionally complete meals that are a solution to some of the world's most challenging problems. We are here as the future of food, and we are here to change the way people think about it!

Huel was founded by Julian Hearn back in 2015 in the small town of Aylesbury in the UK 🏢. Fast forward 6 years and we are now sold in over 150 countries worldwide with 3 offices in the UK and 1 in NYC🗽!
2021 was one of our most successful years so far. We reached sales of over £100m and we grew by 43%! We almost doubled our headcount from 110 to over 200 employees, and we launched a number of innovative products, including our delicious plant-based Mac & Cheeze, and our new Protein Bars!
We're super proud of what we've achieved in just over 6 years and we have no plans to slow down🏃🏻📈. We've got an About Us page that explains in lots more detail exactly who we are, why Huel was started, and how we're changing the game, but for now, we think we've said enough!
Department

Locations

Remote status

Hybrid Remote
Supply Chain and Logistics
·
Huel HQ
·
Hybrid Remote
Supply Chain Planner
You'll be responsible for stock availability across our distribution centres and storage locations, ensuring we have Huel available to send to our customers around the globe🌎
Loading application form
Already working at Huel?
Let's recruit together and find your next colleague.